Swing Dance DJ Rob Szarka
What do you get when you combine a love of music and dance with an eclectic background that includes two decades of college radio and a shady garage band past? Hire me to DJ your next dance and find out for yourself!
Lindy hoppers will dig my mix of the Swing-era sounds of favorites like Basie, Fitzgerald, Ellington, Lunceford, Armstrong, and Calloway with small group and vocal Jazz, R&B, and more. As a West Coast Swing DJ, I blend classic Blues, Soul, and Funk with Gospel, R&B, and contemporary hits. Of course, there's always room for a little Waltz, Shag, or even Hustle.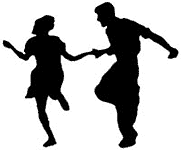 I can also provide live sound reinforcement for small combos and Swing dance instruction. I've also been known to DJ a special wedding or two. Call me at 860-373-0249 to discuss your event.
Here are some of my upcoming DJ and teaching appearances:
Looking for more info on Swing dance in Connecticut? Try my customized Connecticut Swing search.
---
---
Last Update: 14 Oct 2011
webmaster@szarka.org
©2001-2011 Robert Szarka, except Lindy Hop Clip Art by Laura McEntyre